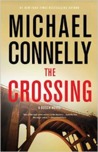 The Crossing
by
Michael Connelly
My rating:
4 of 5 stars
Harry Bosch is back on a case - but for the first time, it's no longer for the LAPD. After being forced to leave the LAPD (before they could fire him), Harry is "retired" and looking for a way to occupy his time. He reluctantly agrees to work for his half brother, Mickey Haller, a well-known defense attorney. Mickey brings an interesting case to Harry's attention - a reformed former gang member is in jail for a crime he swears he didn't commit (and for which Mickey is convinced he's innocent). It's a brutal rape and murder, and Bosch isn't sure he can stomach working for "the other side." Is this case worth his reputation and betraying the morals Bosch has lived by for his entire life?
So, full disclosure, I have an incredible sense of love for Harry Bosch. I stumbled upon Connelly's books in my dad's basement and picked up "The Poet" (of all books) first. I became addicted to his writing and eventually read every book in the Bosch series. I read the majority while pregnant - huge and uncomfortable, unable to sleep at night - with my twin girls. I still maintain to this day that if they'd been boys, they would have been named Hieronymus and Bosch.
So I read this book with a bit of trepidation... what would my beloved Bosch be like without his LAPD badge? I'm glad to say he's still the Bosch we know and love. In the novel, Bosch certainly struggles with the new and different mindset he must face on the other side -- the struggle of seeing the case versus the bigger picture. His brother, of course, cares only for how the facts affect the case and his client. But Bosch, being Bosch, has a bigger end state in mind - if Mickey's client didn't do it - who did?
This helps propel Bosch as he wrestles with his morals and where he belongs now, without the LAPD to back him up. That's not to say the book is simply about Bosch struggling with his own issues. Connelly presents his usual well-structured and plotted mystery, with a cast of interwoven characters. We follow along as Bosch uncovers clues from his perspective and also hear from the so-called bad guys. It's a compelling and layered mystery.
It's also interesting to see Bosch and Haller interact - this novel does an excellent job of setting up just how different the two (half) brothers really are. Still, it's always a treat to have them both in the same book.
Overall, an excellent book. Always wonderful to have Bosch in our lives again, even if briefly. I hope Connelly continues his story (hopefully he'll have to, as Bosch and Haller's lawsuit against the LAPD is still unresolved).
View all my reviews