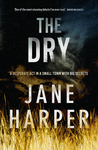 The Dry
by
Jane Harper
My rating:
4 of 5 stars
Aaron Falk is an investigator for the federal police in Melbourne. There, he follows money trails left by criminals. And while he may live a rather solitary life, at least he's also left behind his childhood home of Kiewarra, where the locals literally ran him and his father out of town. But all that changes when Aaron finds out that his best friend in Kiewarra, Luke Hadler, is dead. So is Luke's wife, Karen, and their young son, Billy. Luke apparently killed Karen and Billy before turning the gun on himself: the only person he spared in his family was his baby daughter, Charlotte. Aaron grew up as a second son to Luke's parents, and they call on him now to look into Luke and Karen's finances. Were things really so bad that Luke would enact such violence? As Aaron and the local police sergeant, Raco, begin investigating, it's quickly apparent that the case isn't as cut and dried as it seems. But the people of Kiewarra have long memories, and they still blame Aaron for something that happened over 20 years ago. Is Aaron safe in his hometown? And can he clear Luke's name--if it even needs clearing?
I have been hearing about THE DRY since before its release and wasn't sure it would live up to the hype, but I was wrong. I really, really enjoyed this novel and read it over the span of about 24 hours. My only regret about the entire experience was that it was over so quickly. This was an incredibly well-written, interesting, and intricately plotted novel that just flowed effortlessly. The story at its core is a dark one, and the town of Kiewarra is a sad and depressing place: the townspeople find it easy to believe Luke killed his family because everyone is down on their luck. The town is plagued by a horrible drought (hence the title), which spells certain doom for a community that makes it living primarily on farming. Luke and Karen had bought their farm from Luke's parents, and many think he killed himself because the farm couldn't remain profitable. Harper does an excellent job at portraying the people of Kiewarra--the small town town becomes almost another character in the novel. She does an excellent job of depicting depressed small town living.
In fact, I loved all the nuanced characters in THE DRY. You know when an author just captures her characters' voices perfectly? That was this book for me. Falk just slides effortlessly off the page, and I was completely taken with Sergeant Raco, as well. But you can also easily visualize all the people in Kiewarra that Aaron encounters. While the story primarily takes place in the present-day, we get key flashbacks to the past, when Luke and Aaron were teens, and they hung out with two other kids, Gretchen and Ellie. The slow buildup to a big event surrounding this foursome also creates incredible suspense, as both stories (what happened with Luke and family and what happened when all four were kids) unravel in parallel. It's remarkably well-done.
I enjoyed how the story kept me guessing the entire time, which isn't easy to do. Even when I had a decent inkling what happened with Luke, there was still so much I hadn't figured out. I was completely captivated by the story and frantically turning the pages to find out what had happened--both in the present and the past. I could see the setting, the people, and the town so clearly. The novel truly hooked me from the very beginning and never let me go.
I'm very excited to see that this might be a series featuring Aaron, as I really loved his character and Harper's writing. I read a lot of thrillers, but this one packaged everything together perfectly, and I highly recommend it. 4.5 stars.
Goodreads ~ Twitter ~ Facebook ~ Google+
View all my reviews